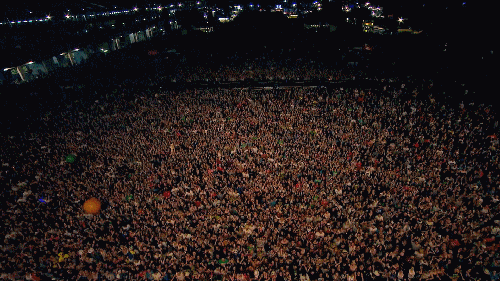 If we made a short movie out of our last months here at MailTrack.io, I think we'd go with the classical cliché of starting from the present, and then fast rewinding it to the past.
The first scene would be us discovering on a weekend that our brand was tweeted and retweeted hundreds of times after we were published on Lifehacker US, UK, India, Australia, Japan and Russia. I'm usually grumpy on Mondays, it always hurts waking up early again after two days of lazy mornings. But that week started differently.
It was the beginning of July, and we had reached 50,000 installations only weeks before. After those publications, we had MailTrack.io mentioned on Product Hunt, and then we just couldn't believe the overall effect. In less than a week, we had over 12,000 installations! And we went from 50,000 to 100,000 in less than two months.
Then the movie would take us back to November 2013, when Nacho González, Gil Casadevall, and Gabriel García, who founded the startup, asked me to officially launch MailTrack.io. We were already amazed by the initial results brought by the great reviews we were already having in Spain and Latin America, but it didn't occur to us that we'd reach our milestones so fast.
"What is the trick?", is the question we've been hearing more and more often these days. I guess it would be easy for us to just brag about the results and say we've done incredibly witty things with our Communication strategy. Instead, allow me to show you that all that we've doing is a pretty classical, well-done PR work.
Understand what you're doing: what is Public Relations?
If you're working in the field, it's very important you understand the origins of the Public Relations in order to comprehend your role (and the role of the journalist) in it. PR is just not something new, or even considerably reinvented in its structure. A good place to start is undoubtedly the documentary 'The Century of Self' (Adam Curtis, BBC Four, 2002). The movie explains the PR industry in a broader sense, identifying the role of the media in captivating public attention using attractive headlines, leads and news stories.
Private media outlets are businesses, and their journalists' main objective is to maintain and expand their audience. The people who follow their publications are what news companies and journalists offer to the organizations that buy advertising from their outlets, therefore making that enterprise sustainable.
So, if you work in PR, what is your role in that game? Well, more in this case than in the case of the journalist, it is clear that your role is to promote the organization that you work for. That is mainly done by supporting the journalists in researching content that is purposeful for his or her objective in the media business: writing articles that are interesting to their audience.
If the nature of the sector that you work in is understood, than preparing yourself for your tasks becomes much easier. And that holds true for whatever organization you're doing public relations for, no matter it is a big company, a cooperative, and NGO or a social movement.  
First things first: before communicating, get your message ready
If you work in Communication, you've for sure heard this question before: what is your message? What are you trying to communicate?
In this sense, we've been very lucky here at MailTrack.io: our product can be described in a single sentence. In a couple of lines, I'm able to transmit to a journalist who we are, what we do, and even show them the attractiveness of our concept. It is usually with those couple of lines that I'll start introducing myself in an email to someone that we don't know yet.
"Greetings from Barcelona. I from MailTrack.io, an app from a small startup in Spain that adds the double-checks from mobile messaging to Gmail for read receipts."
Despite having such an easy product to communicate, it took me months to get to that final statement. What makes it special is that we manage to bundle together important and trending concepts like app and small startup — or even Barcelona in that sense — in a still short paragraph. I'd love to add more, really, but it would make it too long and, therefore, inefficient.
Give your product a chance. What kind of ideas, keywords and trends are directly or indirectly related to what you work with? This exercise is much simpler than it might seem, and I'll give you some examples on how I practiced it here at MailTrack for your inspiration.  
Let's do this: how we gained publications for MailTrack.io
Some insight on the strategies that we adopted here might be handy when designing and applying your own, and so I hope these cases will be useful to you.
1. I'm sorry: if you can't get someone to dedicate themselves fully to Public Relations, it won't result in quality work – I'm considering Public Relations here in the broad sense of the term, and especially if your organization is not big — or if your demand for media relation isn't so high –, you'll of course bundle other activities beyond media relationship, like community management or even maybe content marketing. But don't make the mistake of thinking that the CEO or the Product Manager will be able to do PR as well.
I'm not saying that they wouldn't be able to do it! The necessary techniques and tools can be learned in a relatively short time, especially by people with the correct profile. But finding influencers, keeping contact with them, researching and writing relevant content with the correct keywords, reading the sector extensively, and coordinating that work maybe with other members of your team is very time consuming, and like any important task, has to be completed efficiently.
2. Be a journalist. Think like one, write like one – OK, sure, this means that you have to have good writing skills, but I'm trying to go beyond that here. It's almost never the case that the achievements you and your co-workers work hard to get will be of the interest to the journalists.
Keep your mind on what they're focused on: they want to attract potential readers, and you can offer them the material for that. For you to do that, two things are very important. First, you have to be able to know what's happening in your organization, because all kinds of new developments can be used to create interesting story suggestions.
(It still hurts me when I learned one day that one of our main advisors had given a talk at the famous Mobile World Congress in Barcelona the day before, and even mentioned our brand. But worse: everybody knew about it but me… A great media opportunity thrown away).
Secondly, read everything that you can about your sector and, in a piece of paper or on your Trello board, make sure you write down every idea that occurs to you (even not the very good ones, they can be reused or improved later). Here are some of the suggestions I have taken notes on, so you can have an idea of what I'm talking about:
– 4 Spanish startups inspired by mobile messengers

– These apps will take your Gmail to the next level

– Technology companies are getting tired of the ".com"

– 9 tools that we'll let you enjoy your vacation
Be ready to offer the journalist some nice-looking research as well: for example, if you're proposing a listicle with several products, prepare a short description for each of them, find the people responsible for them with contacts, and let the journalist know that you have it ready in case of he needs it — he certainly will.
Oh, and of course, if you have nice numbers, use them! For example, 100,000 installations, a 400,000-euro investment round…
3. Know your journalists, even if you have a database, and send personalized pitches – I've been working in PR since 2008, and I think this is a fundamental change in the sector in the last years. Journalists have always been pitched, but never have they received so many emails, press releases and phone calls from publicists.
Nowadays in the US there are 4 PR specialists for every journalist, and this ratio has been growing since outlets are hiring less journalists. At the same time, and opposite tendency is being observed in corporate communication. So what does this mean? Well, I pretty much agree with Kate Finley when she says that newswire shots are not really worthy when considering Public Relations. Instead of investing in those, I'd go for a comprehensive media database with contacts from journalists that write about your sector. But be careful.
When hiring a media database service, the most important aspect to look for is data quality, for sure. All those nice extra features offered by them are 'nice to haves', but can easily be substituted by even more efficient tools like MailChimp or AWeber, or Pipedrive if you want to organize your contacts in a consistent way through a CRM tool across your department. In this sense, there are communities on LinkedIn and Quora that offer good debates on which are the best options for a media database, considering the region you want to work with, your sector and your budget. If you're in the US, I'd certainly take a look at Muck Rack.
This is what I do to find the publications that might be interested in MailTrack.io. First, I look for posts or listicles that mention the key outlets in technology in a given country — and I'll even do the search with the Google page from a particular country, with the search terms translated into their language. If you have the name of one very important outlet in that country, you might want to include that name in your search (since you would expect that website to be listed in an article like that). And, please, use Alexa. Have their Chrome extension installed on your browser.
4. Your relationship with your journalists and influencers is the best asset that you have, and that's why you should focus on them, and not so much on their outlets. Have their emails, Twitter accounts, emails, and anything else available.
This is how I look for journalist on the internet. I usually find them from the articles that they write, and then I check on their websites to see if they are consistent in writing about technology and/or startups. Then, I check if they make their contact information readily available, which many times is not the case. So what I usually have to do is to look for their email on their Twitter bios, on personal webpages like About.me or LinkedIn.
If I can't find them there, I do searches with their first name and last names and add "@gmail.com" or "@theirwebsite.com", sometimes with the word "email" as well. You might also try to look for popular formats of email address, such as name.lastname@, name@ or nlastname@. And absolutely have Rapportive installed on your browser, so you also have the option of trying those terms and seeing if you guess the journalist's email address right.
5. Always use the email, sometimes Twitter, almost never the phone, and know your timing with MailTrack.io. I keep telling my team that we should create MailTrack.io special features in our app focusing on Public Relations, because I know from personal experience how useful MailTrack is for this kind of work.
It's priceless for me to know if a journalist opened my emails, and if he or she opened it many times — which means that he's either really interested, or passed it to someone else (probably a colleague or an editor). Besides, one of the most important things MailTrack allows you to do is to do follow ups that are appropriate to your recipient's reaction.
If you were a salesperson, probably the best thing to do would be to call the prospect clients that read your message. In Public Relations, the context is different. Journalists are extremely busy professionals, and you don't want to be seen as an annoying publicist (although you'll inevitably be seen as one by some, unfortunately). This way, checking for opens we'll essentially change the way that you'll approach the journalist for a second time (I wouldn't recommend for a third time in a row if she hasn't answered you).
"Hello, Name. Sorry for bothering. I just wanted to check if the suggestion we sent you was of interest before contacting anyone else" is certainly one option available to you after seeing that an email was read. I usually wait at least a day or two after the open record before sending it — but I might even delay responding up to a week. If the recipient hasn't read my first email, I usually send a tweet explaining that I have sent them a suggestion that might be of interest to their readers.
***
What do you think of the way we do PR at MailTrack.io? Do you have other ideas? Do you disagree with something? Let me know!